Valentine's Day 2022 is coming, you want to buy a meaningful and profound gift to give your half of the world. To express the love of couples who love each other. There are many ways to express your love and giving gifts in a romantic atmosphere is a favorite choice of many couples. Chocolate Valentine eternal love 2022 is one of the most perfect choices.
Valentine's Day Origin
One of the most accepted legends about the origin of Valentine's Day is that of a Roman cleric who lived under Emperor Claudius II in the 3rd century AD. During this period, the Roman Empire went through a tumultuous and tumultuous period of history, also known as the "Crisis of the Third Century", when the empire was divided into 3 states killing each other.
In the midst of these dark times, Emperor Claudius issued an extremely harsh order to ban all young men in the empire from marrying because he believed that unmarried soldiers were better able to fight. But a brave missionary named Valentine took the place of a secret marriage ceremony for the lovers. But the act was discovered, and Mr. Valentine was jailed. Emperor Claudius ordered Valentine beheaded on February 14, 273.
According to writer Greg Tobin, many people believe that Valentine's Day love cards originated from the love and admiration notes that children slipped through prison bars for Mr. Valentine, as well as the letter. inscribed "Your Valentine" before the date of his execution. But this may just be an extra episode that people add to this tragic story.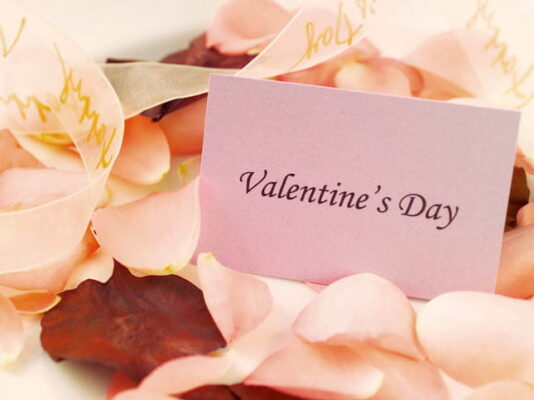 Another popular legend about the origin of Valentine's Day is the story of a priest named Valentine. In 250, Emperor Decius issued an edict punishing all who did not worship the Emperor. This edict is aimed at Christians (Christians) because they worship only God. As a result, many Christians were imprisoned and executed. Among those arrested was the priest Valentine, who was arrested in 268.
Mr. Valentine was a wise and virtuous man, so he was trusted and loved by the Romans. Therefore, Emperor Claudius tried to interrogate him to find out and recruit him to deter others but failed.
Enraged, the Emperor ordered Mr. Valentine to be imprisoned. Locked in a prison, Father Valentine was able to tame the prison warden, Asterius, by healing the jailer's daughter. Appreciated by Father Valentine's heart, Asterius and his entire family of 46 baptized Christians. Fearing that this would threaten the kingdom, the Roman Emperor ordered the beheading of priest Valentine on February 14, 270 on Flaminius Street.
Father Valentine's death touched and admired the people and Christians. Since then, the name Valentine has become a symbol of great love.
Another legend holds that, in the 2nd century AD, a physician was beheaded for believing in Jesus. While in prison, awaiting execution, the doctor cured the jailer's blind daughter. The girl finds the light and between them arose love.
On February 14, the doctor was taken to be executed. Before he died, he sent her a love letter signed "My Valentine". This story later became a legend and around the world people consider this day to be a festival of lovers. Until now, couples still have the tradition of signing their names with the old phrase "From your Valentine" instead of their names in Valentine cards.
In addition, there are many other legends related to the history of Saint Valentine's Day. Although they are different, these legends are imbued with lyrical and romantic nature to honor the couple's love.
The meaning of giving chocolates on Valentine's Day
To most accurately answer why Valentine's Day gives chocolate, you need to know about the meaning of this gift. Beyond simply being a food, chocolate has a deep meaning and is considered a symbol of love.
Taste like love, Chocolate is a type of candy with a mildly bitter taste when bitten, sweet later, and with it the fat. This is also the harmony between the emotional levels of the couple's love. It is believed that the taste of chocolate is the truest and most accurate description of the levels of love: anger, sweetness, sympathy, sharing, etc.
Therefore, they have widely used gifts in holidays, parties, and especially on Valentine's Day. Although not a new gift, the eternal symbolic meaning of chocolate is always present. The meaning of giving chocolates on Valentine's Day has always been a sacred thing that couples love and worship.
Why give chocolates on Valentine's Day 2022?
Chocolate is a traditional gift that couples give each other on Valentine's Day. Beautifully decorated gift boxes, inside are chocolates of many beautiful shapes as if bringing the whole heart of the sender to the recipient. Chocolate is even called a "gift of God".
Chocolate is made from dried cocoa beans, ground into powder, pressed butter mixed with sugar and milk. The higher the cocoa content, the more bitter the chocolate flavor, whereas the higher the lactose content, the sweeter the chocolate taste.
Chocolate has a sweet and bitter taste that melts on the tip of the tongue, bringing happy emotions to the enjoyer. Chocolate has been a traditional gift for Valentine's Day since 1902. Since then, chocolate has been known as an indispensable gift for that person on a special Valentine's Day.
Besides, scientific research shows that eating chocolate is beneficial to human health and mood. The chemical composition of chocolate even has an amino acid that has an antidepressant effect, another amino acid that creates a feeling of euphoria, happiness, and satisfaction. Therefore, tasting sweet chocolates together on Valentine's Day makes couples feel happier.
With a meaningful message, beautiful appearance, sweet taste, and good health, these are the factors that make chocolate a gift that everyone buys for their lover on Valentine's Day.
You can buy Valentine's gifts for your lover at Bipubunny Store !!!